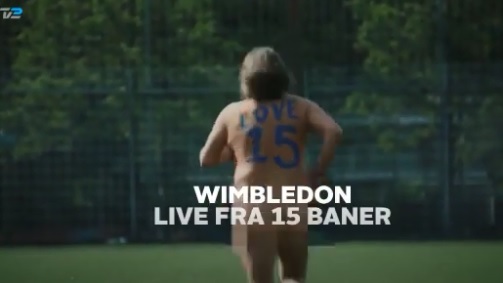 Wimbledon is coming!!!
E-Mail thestreaker@hotmail.co.uk
No sooner had the men's 1,000m speed skating medal ceremony concluded, the now distinguished and world record breaking streaker stepped out to give the audience a dance. Our dashing daredevil entered the world stage once more on the ice in PyeongChang sporting a pink tutu and had the words "Peace + Love" written on his chest.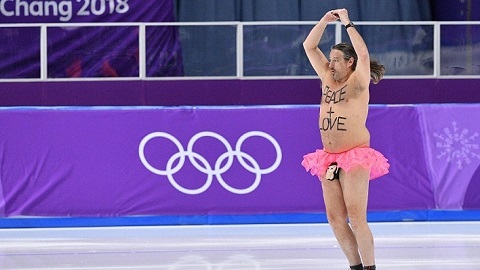 Together with his novelty underwear - a monkey emblazoned pouch - Mark began dancing around the Gangneung Oval like a figure skater, and started off as every new skater does - with a slip and a bump to the floor. As with other determined Olympians, he got up, dusted himself down, and went for gold!
E-Mail thestreaker@hotmail.co.uk
The great thing about the Olympics is that, apart from bringing nations together, even if you donít especially care about sports, it still provides a whole bevy of authentic human moments to indulge in. Heartbreaking defeats. Joyous moments of levity... and a guy in a pink tutu, streaking on the ice.
Mark's mission this time was to promote an international spirit of togetherness. The long-haired dreaming Liverpudlian father-of-three wants to ask the world to be a little better. Thank you, Markyboy, you tutu-wearing streaker. May we carry the spirit of the Olympics with us always, together with a bit of British stiff-upper-lippedness.
The judges are currently in scoring to see if Mark has achieved another personal best!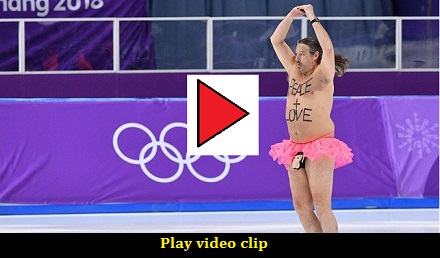 Vive La France!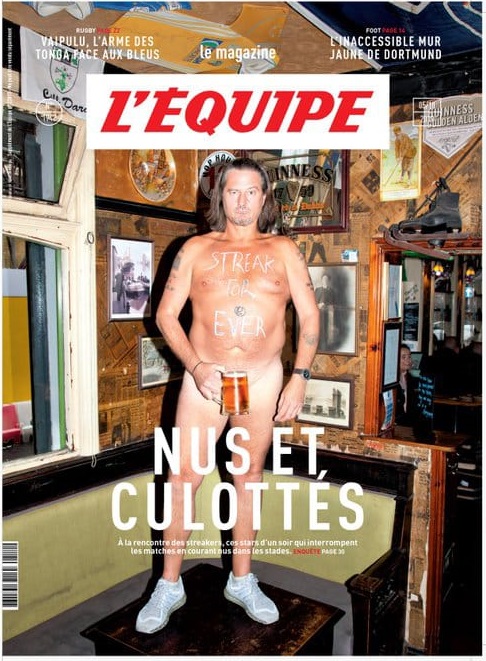 Mark Roberts stars on the front cover of L'Equipe.
France's premier journal!
Cooking made easy!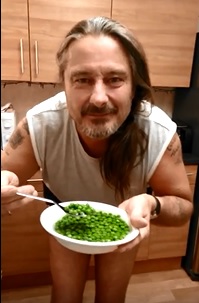 ... with Mark Roberts on his YouTube channel.

Don't forget ... Whatever the meal, make it want to eat you!

Click to surf to his channel and don't forget to subscribe to get his latest hilarious clips!
Mark teams up with
The Dustaphonics!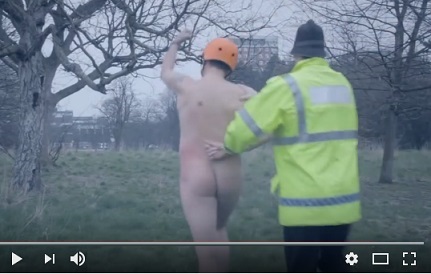 Click on the video above to watch the
full hilarious track called The Message!

I would like to thank everyone who has taken time-out to send messages of goodwill and support over the last few years.
.
I'm sorry if I haven't replied to all of you but, as you can imagine, I get 'tied up' a lot and it's difficult to write or use a keyboard when your hands are handcuffed behind your back!
.
Seriously though, I receive so many heart-warming words of encouragement from every corner of the universe, even ET hasn't had a reply yet!
.
I really appreciate your e-mails so please keep them coming and, once again, thanks for taking the time.

Lots of love and keep smilin', - Mark