Superbowl XXXVIII 2004
See the video clip here!
See the Fox Sports video interview here!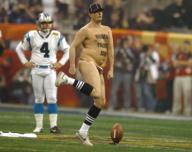 GOD SAVE THE QUEEN!
GOD BLESS AMERICA!
Mark Roberts continues in his passion to bring laughter to the world. He performed his best ever streak yet, appearing as "Super Bowel" at THE SUPERBOWL in the good ol' US of A!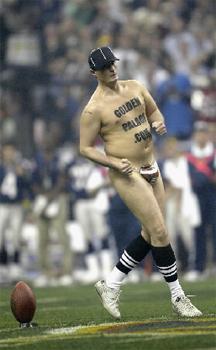 Mark dances a jig around the ball!
Mark's intention is to bring smiles to our friends over the water and billions throughout the world, armed with just half a US football over his nether regions, he was eventually "levelled" by a New England linebacker!
Mark has had many emails from the our US neighbours saying what they need is a good old fashioned laugh, so, allowing for $1.6 million dollars worth of security, that is what he gave them!

"I haven't got your ball, pal, HONEST!"
He streaked just before the start of the third quarter (half time in English football!). His 30 second show certainly livened up the proceedings after the lack lustre official half time show. The crowd lapped it up, with their cheers and flash photography, Mark was sure to be buzzing, knowing he gave the American public a much needed laughter session.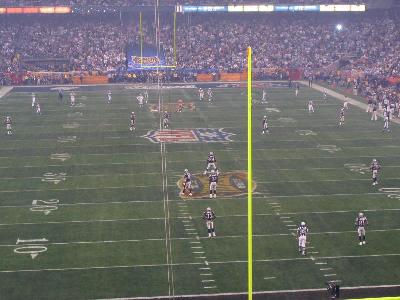 Spot the streaker! Click for larger picture!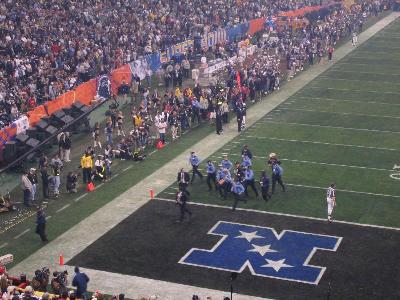 Click for larger picture.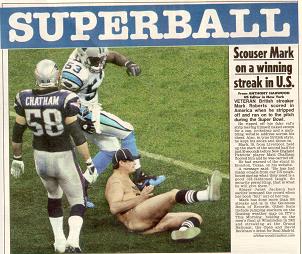 Click for larger picture! (Thanks to the Daily Mirror!)
Our Mark upon his release (hopefully it will be soon!) will try to gain interviews with top talk show hosts (Hey JAY - if you're listening - GET IN TOUCH!) to talk through what he considers his all time best.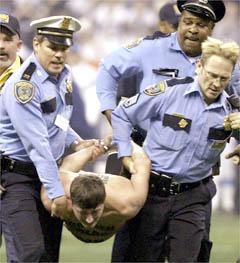 Go easy on him guys !
After the streak, Mark too a trip to the famous Venice Beach where he got a tattoo ... you can click on the tattoo for a bigger picture showing where the tattoo is on his body ... go on ... I dare you!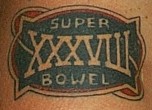 Click for a larger picture!
Read a SUPER news report about the streak here!
Read about the court appearance here!
---
(Clip below put on site just before the streak).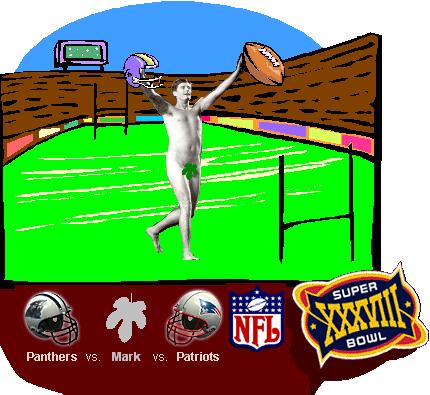 "Err... Houston, WE HAVE A PROBLEM!"