Superbowl XXXVIII 2004
Court Appearance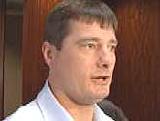 Our Mark, charged with criminal trespass, was fully dressed when he went before a Houston judge on 12th Feb 04. After the hearing, Mark told told reporters outside the courtroom that his next court date was scheduled for late March. Mark said the judge will allow him to return home to Liverpool, England in the meantime.

Asked if he enjoyed his Super Bowl experience, Mark said: "I just like to entertain people at the end of the day; there was 70,000 people at Reliant Stadium -- I think everyone was entertained by my performance," Roberts said. "I like to make people laugh and I think I did exactly that."

Roberts thought his thong dance was much tamer than Janet Jackson's breast-baring flash dance. "I was covered. I didn't show anything that was actually rude."

The maximum penalty if convicted is 180 days in jail and a $2,000 fine but hopefully the judge, like the rest of the USA will see the light funny side.

His attorneys said they may challenge the criminal trespassing complaint if there are no signs at Reliant Stadium telling people to stay off the field.