Embassy World Snooker Final 2004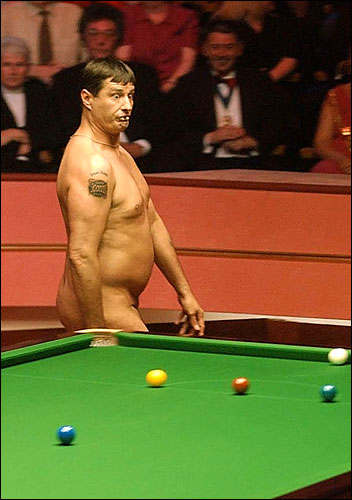 Excuse me ref, can you clean my balls?
Mark Roberts continues in his passion to bring laughter to the world. Following on from his massive hit at the Superbowl in Houston TX, Mark comes home to have a game of snooker ... but not just any ordinary game of snooker. He thought he'd pop on seconds before the final frame of the Embassy World Snooker Finals as millions of fans watched the final on TV.
Just before the start of the final session, with Ronnie O'Sullivan poised to beat 200-1 outsider Graeme Dott, Roberts pulled off his clothes, ran down steps and on to the floor as the audience cheered. He danced around the famous green baize at the Crucible Theatre in Sheffield. He was 'captured' by officials before trying to claim 'Psychological Asylum' under the snooker table ... only to come out after he received his results from his 11-plus exam and a helicopter!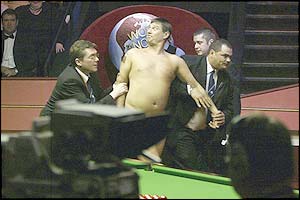 "I would have got away with it too, if it wasn't for those pesky officials!"
He sported a pair of joke teeth, as did O'Sullivan when he picked up his trophy following his 18-8 victory. The 39-year-old, of Kensington, Liverpool, said he had only planned his peak-time exposure one day before the snooker final.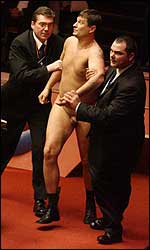 "See you later for a pint Ronnie!"
He said: "I have got away with it. I only wanted to have a laugh, I didn't want to cause any friction in the game so I had to pick my moment. After the Superbowl I didn't plan anything for a while, so for just one day's planning it has gone very well."
Roberts, who later enjoyed a pint of beer in a Sheffield pub and a surprise jovial phone call from Ronnie O'Sullivan, said he was led away from the snooker table by security officials and put in a changing room.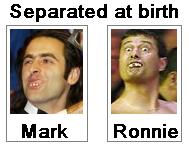 Mark was eventually handed over to South Yorkshire Police who allegedly had a quick autograph session before releasing him without charge.