Winter Olympics 2006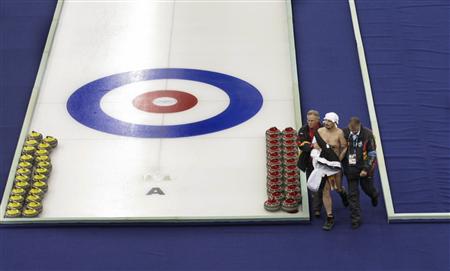 Mark Roberts starts off his streaking year with a brisk prance across the ice at the Winter Olympics Curling event in Italy. At a lull in the proceedings of the USA / UK bronze medal playoffs, Mark provided some unscheduled entertainment with his rubber chicken for the audience which included the Olympics president. His clothes pegs earrings, hanky-cap and marigold rubber gloves were a tribute to all the unsung "cleaners-cum-caretakers in brown coats" heroes who brush the ice directly in front of the hurled stone.
---
PINEROLO, Italy - How do you know when your sport has hit the big time? Probably when a Mark Roberts takes the time to undress and race across your playing surface.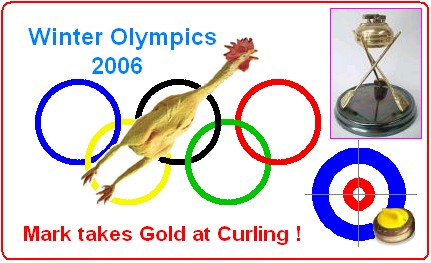 The bronze medal curling match between the United States and Great Britain was delayed momentarily in the sixth end when Mark appeared on the arena floor. He was naked, save for what appeared to be a strategically placed rubber chicken.
As IOC President Jacques Rogge looked on impassively, the interloper waddled along the ice next to the first stone of the end as it moved down ice. A couple of Olympic volunteers eventually corralled him, draped a coat over his shoulders and led him away.
"It was funny to see," said Pete Fenson of the U.S. team. "If you were to ask me if I had ever seen that at curling, I'd say no.''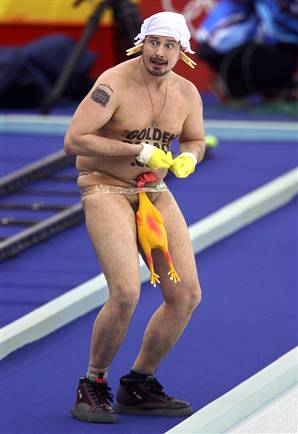 The television cameras cut away. Even the security types were grinning sheepishly, seemingly embarrassed by the whole situation. U.S. team members couldn't stop laughing.
"It was all right. We all kind of laughed," said John Shuster. "You don't see streakers at games that aren't getting televised. Although if it's not televised, I guess you wouldn't know if there was one."
He might have put a little too much thought into that.
It was clear, however, that the sport of curling had reached a couple of milestones on Friday. The men captured the first Olympic curling medal in U.S. history. And the sport, at least at the Olympic level, was invaded by its first streaker.
Clearly curling has arrived.
"I guess so," Fenson said as he thought about it. "You know, you're right."
---
Related news stories:

http://news.ninemsn.com.au/article.aspx?id=88643
http://www.kten.com/Global/story.asp?S=4548151&nav=menu410_5
http://www.msnbc.msn.com/id/11541373/
http://www.torino2006.org/ENG/OlympicGames/news/news_eng161972.html
More info along with photos to follow soon ...