R.C. Mechelen – K.V. Mechelen, Belgium 2005
Snowy and Tin-tin were away on holiday so the good ol' British bobby went on instead wearing a Hercule Poirot (He's Belgique, NOT Francais!!!) moustache and Elvis sideburns.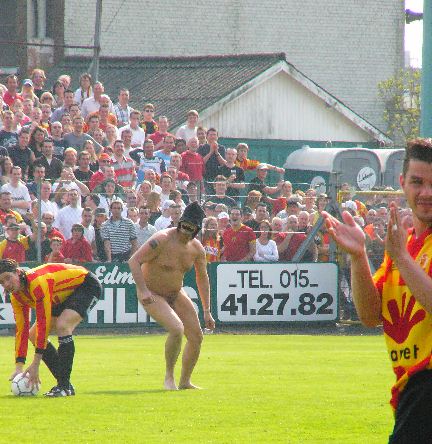 Applause from the players while Mark plays hunt the ball.
I tried to score a goal but a defender tackled me by sticking his toe out! So did press ups and the Riverdance instead! Cut both my legs open getting over the barbed wire fence. The things I do to entertain you!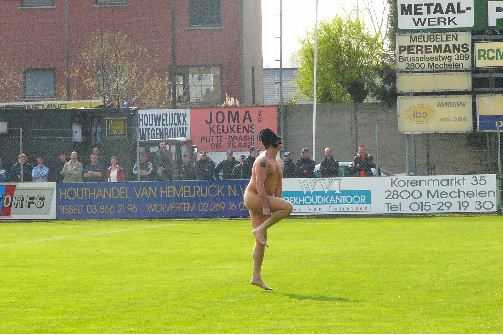 Another performance of "Riverdance" before some press-ups!!!
The guys who got me over there to do the streak, their family and friends were the nicest people you could wish to meet. Their planning of the streak was of the highest order which included having six guys at intervals around the stadium waiting with shorts for me and ready to take their tops off so the police didn't know who the streaker was!
Mark T, who invited me over, had streaked the game the previous year and to allow me a clear passage onto the pitch, jumped over the fence further down the field to divert security away from the "real invader"!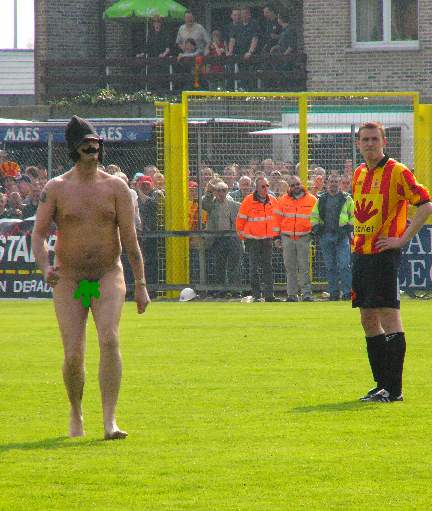 The view from the terraces are indeed value for money!
I want to say a HUGE THANK-YOU to Wim, Mark, Luk, Noel and Annie T for taking Gary, Kris and myself into their homes and treating us as more than a part of the family! The welcome was one we will never forget!
Also a huge thank you to all our other new friends, Sofie, Johnyboy, Stijn, Pesos, Burt and Jessica for helping us clear the shelves of whisky and, of course, Kristel whose shelves we cleared and who kept her bar open until we were carried out on a dustcart!
The whole story, I hope, will be up and coming soon but I'm sure the pictures tell the story themselves. I will now leave you with some photos taken of 'The Gang' before the streak.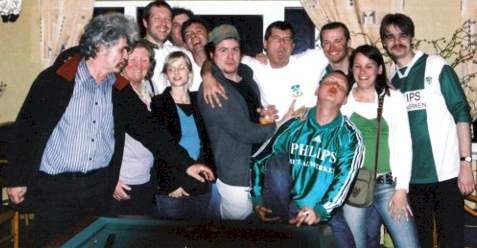 The Gang!

Making a Statement!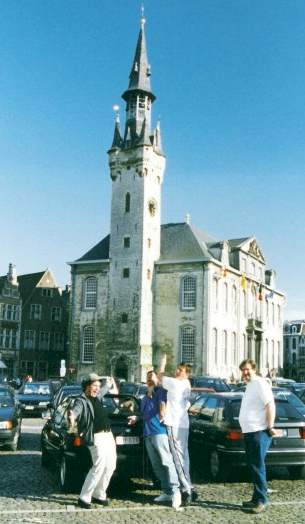 Clowning Around!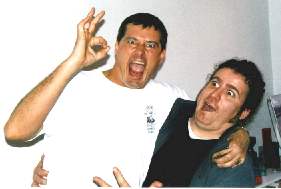 The Terrible Twins!!!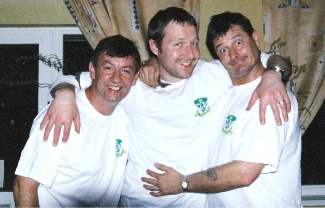 ---
Original Flyer Displayed on Website Prior to the Streak: