Find out What's New in and around The Streaker! (Most Recent at top).
What's New ?
Mark Roberts vs. Regina in lifetime ASBO ban order. Read more here.
Mark meets the Worlds Number one Pool Player. Read more here.
Mark appears in Houston County Court charged with Trespass. Read more here.
Mark Roberts hits the big time with a performance of Riverdance at the US Superbowl XXXVIII 2004!
Streaker advert wins Cannes Film Festival 2003 award!
A Guardian Newspaper Online report can be found here.
A recent interview with Mark for a popular US movie website can be found by clicking here.
A little piece about my UEFA streak on www.bayarea.com.
Website of the day for Talk Radio Wednesday, May 14 2003! Click here for more ...
A little write-up about me and other streakers can be found at this site.
Maisfutebol Journal in Portugal has done a write-up also about me.
Spanish newspaper 'El Mundo' has a write-up on me. A good read :)
America's Washington Post newspaper has also done an interview with me recently. Click here to see more!
The Free Republic website has done a write up on me and has some posts from surfers about my Roland Garros streak. Some posts are really very hil-hairy-arse! Worth a look.
International Herald Tribune in America has a fabulous write up on me. Don't miss this!
Mark Roberts appeared on prime time TV on HBO America's Real Sports with Bryant Gumbel! Mark thanks the support and emails from you guys and gals in the States. I believe the show was a big hit over there. Click here to see Mark Roberts square up to David Beckham, Alex Zinardi and Beverly Hills High!
Read all about Mark Roberts case as it happens from May where he intends to plead not guilty to a charge of "Public Nuisance". In what will be a landmark case, "Roberts vs. Regina" will surely hit the media big-time!

Related News: BBC News Report
Mark's antics are the focus of "ESPN's" famous 'Page 2' in the United States of America. Click the following links below to see the report.
Mark Roberts to appear on the live television programme "The Salon" on February 27th 2003, to be repeated on Channel 4 the following evening.
Video clips of certain streaks are now available with even more in the pipeline!
Mark Roberts Secures Advertising Deal!
Mark has recently been the focus of a new advertising campaign called Exhibite! He was recruited after scoring his first ever goal at the European Champions League Final. You can read more about Mark in his role at the following links ...
http://www.aftersun.com (for 3MB or 10MB video trailer)
http://www.dailyrecord.co.uk (for a Daily Record write-up)
Champions League, Wimbledon and Commonwealth Games 2002 photos now on show. Stories for these coming soon!
Wessex Website of the Week!!!
"Website of the Day" in the Daily Mirror national newspaper ...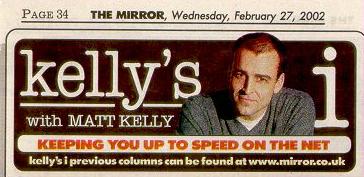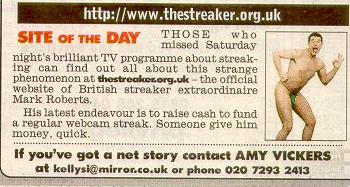 .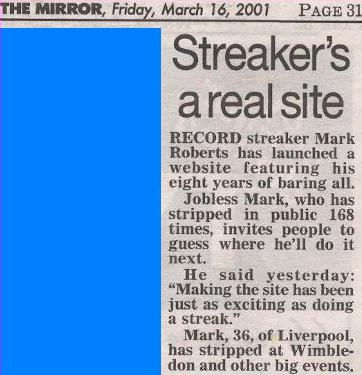 .