Carl 'Houdini' Morris - Former World Pool Champion!

On one of my many visits to new and exciting places, this time to Belgium, I had the very nice privilege of meeting one of the world's best pool players on the plane trip over there. His name is Carl 'Houdini' Morris!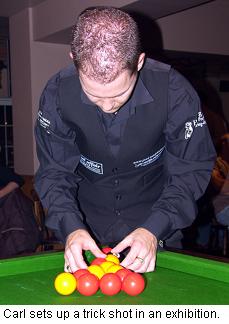 He was the world number 1 at pool a couple of years ago and is a huge inspiration to me personally as I am sure he is to many others who have met him. We spoke for the whole flight and I found a good friend. He does a lot for charity and is going to be doing a charity walk across the pole soon - pulling his own sled!
We can truly learn a lot from Carl and I sincerely hope he makes his trip safe and well.
The Arctic expedition aims to make a surface crossing of the Arctic Ocean between latitude 89N and the Geographic North Pole at 90N. It is known as "The Last Degree".
The team of 6 including Carl, will be undertaking a foot journey of 60 nautical miles (approximately 70 statute miles). You can make a donation to this worthy cause if you wish and indeed read more about it at http://www.justgiving.com/northpoletrek
He has also just completed a 600km bike ride across the African deserts in 40 degree heat in 7 days! He truly is unbelievable and an inspiration to us all to realise what we can truly achieve in our lives if we try.
For more general information about Carl 'Houdini' Morris and on how to contact him direct, you can surf to http://www.pro9.co.uk/html/print.php?sid=258