Liverpool vs. Chelsea - Worthington Cup 2000
The week flew past from my previous attempt at a streak at the ground and before I knew it, was in a taxi on my way back to Anfield. This time, instead of haggling with a tout, I was able to pay at the gate.
I chose the Centenary Stand, as it gives me access to the side of the pitch and a better chance of getting to the centre spot, or G spot as I like to call it, due to the fact that once I reach it, everybody's going to enjoy it! You have to choose the right time to streak, so as not to disrupt the game, and my plan was to get the ball just before kick-off in the second half and try and score a goal. For my disguise I wore a riding cap and carried a French loaf under my arm with bicycle clips on my trousers and pretended I was a sausage jockey from Paris!
After safely getting in, I made my way to my seat, which was halfway up near the Kop end. If my plan was to have any chance of succeeding, I had to get to the right vantage point. As half-time came, Liverpool were winning 1-0, so I thought that I would try and make it 2-0, and made my way down the stairs into the food and drink area and up a set of stairs further along.
I came out in the central part of the stadium and made my way down to the front and sat in an empty seat in the second row. I'M READY!!!
All I had to do now was wait another 5 minutes until the players came out and I was on! The 5 or 10 minutes just before the streak are always the most tense. Your heart beats faster, your eyes move quicker, your hair changes it's parting, your bowels open up and your todger shrinks! Just like on a first date!
As the minutes ticked by, I kept on thinking about what I was going to do. It sounded so far fetched, but at the same time, didn't seem a problem. Just run on, get the ball and score a goal!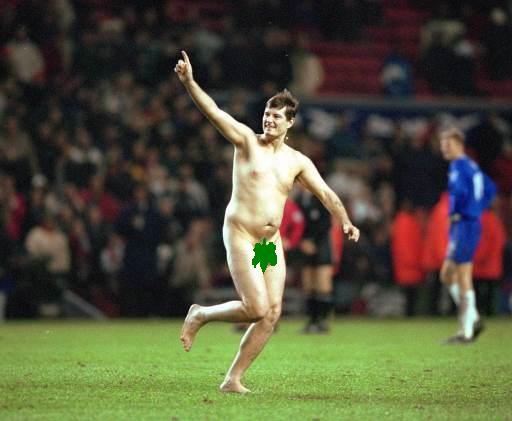 As the players came out, I took my trainers off and prepared myself. I brushed my eye-brows, tweaked my nipples and shaved my arse, then sprayed on my SURE deodorant. Now I really was ready! While both teams took their positions on the pitch, I made my move. I stood on the back of the seats in front of me and squeezed between the two people in them, jumped the wall and ran onto the pitch, ripping my suit off as I ran. As I ran towards the middle of the pitch, Gian-Franco Zola was about to kick-off, but when he saw me running towards him, he started laughing and passed me the ball. This took me by surprise, so I thanked him by breaking wind and, without breaking my stride, started to run through the whole Chelsea team with the ball at my feet. All the players just stood there with their mouths open, not knowing whether to try and tackle me or ring ''Crimewatch''.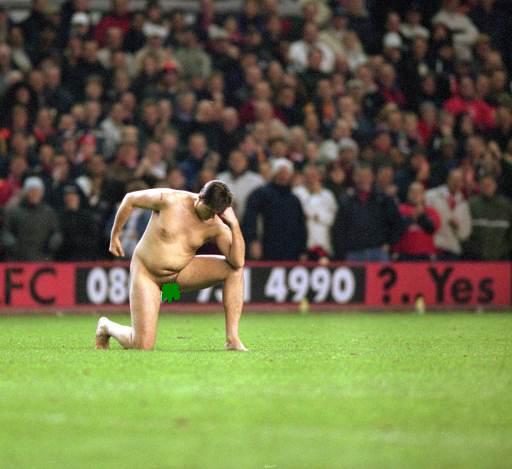 As I got into the box, I could hear the Kop building up in front of me, so when I got by the penalty spot I went for it, and unleashed the best shot I have ever attempted. It flew past De Huey, the keeper and into the corner of the net!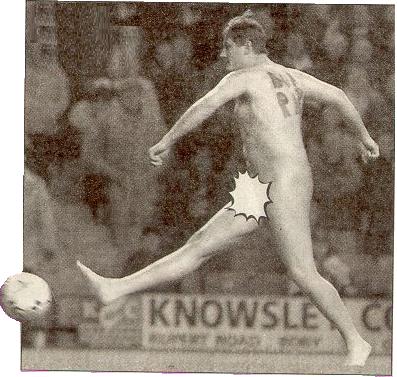 GOAAALLLL!!!!!!!!
To make it even better, he half went for it. What a feeling! Taking on the whole Chelsea team, alone, naked, and scoring a goal for Liverpool in a Cup game in front of the Kop. You cant beat it! It's become my personal favourite. Although the goal didn't count, it certainly did for me!
The Kop roared, as did the rest of Anfield. Even both teams of players, managers, linesmen and stewards all laughed. Once the ball had gone in, I ran around the box and started to moonwalk. After a few backslides, I then assumed the pose of ''The Thinker''. Then, after having achieved my ''goal'', I headed towards the waiting stewards at the side of the pitch, to let play resume. When I got to the first steward, I realised I knew him and started to ask him what he'd been up to, momentarily forgetting where I was and what I had just done. He then said to me ''You know what's going to happen now Mark, don't you?'' meaning that I was about to be arrested. To which I replied, ''Yeah, you're getting it now!'' and jumped on him, wrapping my arms and legs around him and then said ''carry me off, you tart'', which he did. I was handed over to the police and the whole of the Kop booed them as I was led off.
I was then charged and taken to St Anne Street police station and was going to be held overnight until I told the policemen on duty that I had to be in London the next morning to appear on a TV show. Thankfully, after a couple of hours they let me go and as I walked out I shouted ''THEY THINK IT'S ALL OVER'' (the show I was on the next day), to which the whole station shouted back ''IT IS NOW''. This left me feeling on a high as I departed and went home smiling.
I was later fined £100 in court, and the Magistrate even said to me that he had been to a rugby match in St Helens that evening and that I should have gone there instead as it was a boring game.