Mark Roberts - The History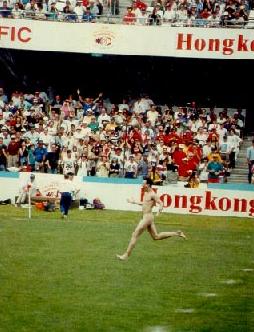 A little bit of the history that runs before me? Born and bred in Liverpool, on the 12th of December 1964. I first started streaking in early 1993. It was in Hong Kong where I went to "find myself". I went to the giant sports stadium there and did my first ever streak at the Rugby Sevens tournament !!! The crowd stood up, roared and cheered having not seen anything quite like this before. When I eventually came off the pitch I was caught by a British Policeman who said "Sorry Mate, but I'm going to have to nick you!". Then a Chinese reporter said to me that if I streaked again in the same match I could perhaps make it into the Guinness Book of Records ! That was a chance too good to miss !!! I'm half way there already I thought ! So, an hour later I was back on the pitch again !
From there, two days later, I streaked at a Chinese football match in the Viceroy Cup. People in the streets were going streaker crazy, beeping their car horns and shouting S-T-R-E-A-K-E-R !!!
Unfortunately, I had to take a visit to the local police station where they fingerprinted me, but they seemed to enjoy all the attention as well.
At first it was a bit embarrassing but now it's just like getting in the bath! People ask me why I do it; well, it gives me a buzz, the crowd laugh and if you can make people laugh it gives you a big rush. I don't do it to offend. If you look into the crowd of any of the photographs you see of me streaking, they are all laughing and smiling, standing up wanting to get pictures with their cameras!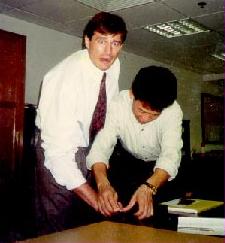 "Red Handed Roberts they call me !"
I have done over 150 streaks so far; some for the buzz, some for charity! The Liverpool vs. Everton football derby streak in 1994 (the first streak in Britain in may years) raised £200 for Alder Hey Children's Hospital. This streak was where I made a statement about Brian Clough's comments about the Liverpool fans at Hillsborough.

You can see a list of my appearances on TV and Radio in the Interviews section of this website. A couple of other interesting facts are that I have appeared on the front cover of a book called "The 19th Hole" (ISBN:0233990526, Andrew Deutsche Ltd). The book is about comical events at sporting venues. The title of the book originated from my golf streak where I wrote "The 19th Hole" on my back with an arrow pointing to my posterior! Another is that I was asked if I could appear as a "Virtual Streaker" on a Hockey website; - of course, I agreed.
The Guinness Book of World Records also got in touch and labelled me as the Worlds #1 Most Prolific Streaker, but at the last minute decided not to publish it in the book as they did not want to encourage such behaviour!
What does the future hold? I will keep streaking as long as it gives me a buzz and as long as the crowd enjoys it! The next sporting venue you attend, keep an eye out for me!
Cheers,

Mark Roberts.