Liverpool vs. Everton - League Derby 1994
The Neville Southall autograph came about after I had just done my first streak in Britain (the first streak in Britain by anyone in many years) at the Merseyside derby (Everton v Liverpool). This streak at Goodison Park raised £200 for Alder Hey Hospital.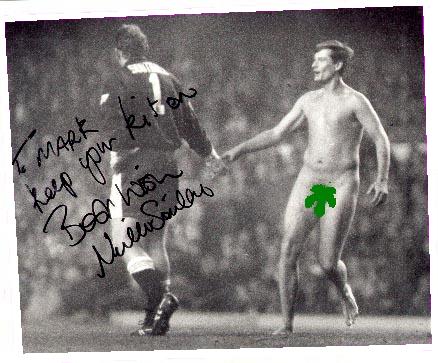 "To Mark, Keep your kit on! Best wishes, ..."
I decided to make a comment towards Brian Clough after his comments about the Liverpool fans at Hillsborough. I got somebody write ''BRIAN CLOUGH IS AN ...'' on my back, with an arrow pointing to my posterior.

"Brian Clough is an ..."
I was lucky to get in after buying a ticket off a tout but ending up in the stands upstairs. I had to ''leave'' 15 minutes early and got back in through one of the doors that was opened for people leaving early downstairs, in order to get on the pitch. I stood behind two policemen and a steward, who were at the top of the stairs leading onto the pitch and took my clothes off before saying ''excuse me'' as I squeezed through them and ran down the stairs and onto the pitch. The game carried on playing so I ran the length of the pitch and shook Neville's hand (even though I'm a Red) and then handed myself over to a waiting policeman who led me off the pitch with a helmet over my privates!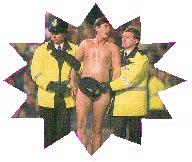 Nice helmet !
I was held in custody for 3 days after this as I had a warrant out for my arrest for not appearing in court at Watford for dropping my trousers outside Wembley (another story!).
The following week I waited outside the players entrance at Goodison for Neville who took me into the players lounge and signed my photograph for me and told me that he thought I was badly done by after being fined when I had raised money for a children's hospital.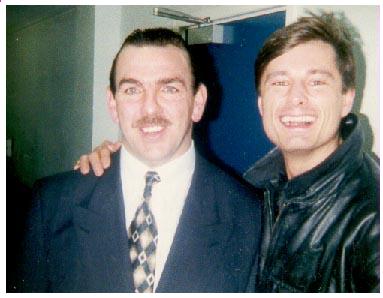 A good sport ! - Cheers Nev !