Turner Prize Streak - Trial 2012 - 30th March 2012
"Mark Roberts is found NOT GUILTY at Gateshead Law Courts!"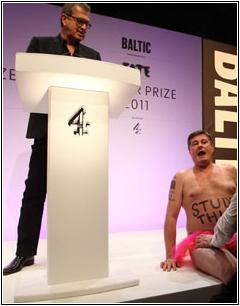 Mark, who 'contributed' to the Turner Prize ceremony at Gateshead's Baltic gallery has been cleared of any crime.

If you remember from our previous report, our hero ran on stage naked except for a pink tutu, just as the Turner Prize Winner's name was about to be announced, on 5 December 2011.

Our hero had denied a charge of disorderly conduct likely to cause harassment, alarm or distress and subsequently, Magistrates in Gateshead found that no criminal offence had been committed.

Celebrity photographer Mario Testino was about to announce the prize when Mr Roberts tore off his velcro trousers to reveal a pink mesh tutu and ran on to the stage. Our hero was then rudely interrupted and was wrestled to the ground by security guards and removed.

Mark described his action as being in the spirit of the event.
---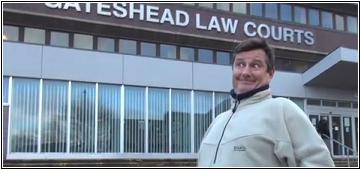 Defending, Laurence Lee said: "This was the Turner awards, the most bizarre, outrageous, controversial awards ceremony in the world.". Referring to Mark's performance art, he continued: "This was an incident which was, if you will forgive the pun, over with in a flash and which brightened up a miserable world."

"The audience was in stitches. They loved every minute of it."

Magistrates cleared Mr Roberts of any crime, but the chairman of the bench Ray Ashley, trying to hide a chuckle, added: "We do not condone your behaviour."
---
Well done Mark and well done Gateshead Magistrates, another miscarriage of justice averted and a victory for common sense!

The world once again smiles at the outcome in an otherwise dark world.

Mark Roberts, our 'performance artist', our super hero, will continue his quest of making people laugh!
---
Related news stories for this streak:
http://merseymagazine.co.uk/2012/03/turner-prize-streaker-not-guilty-of-any-offence/
http://www.bbc.co.uk/news/uk-england-17565263
http://tyneandwear.sky.com/news/article/16745
http://www.journallive.co.uk/north-east-news/todays-news/2012/03/31/baltic-turner-prize-streaker-found-not-guilty-of-crime-61634-30665118/
---
On Facebook? Why not join The Official Fan Group of Mark Roberts - The Worlds Number One Streaker