National Lottery 1997
The third time I tried, was in '97, when the Lottery were on tour in Blackpool. I went down with a friend and, after getting changed into my 'working clothes' in a pub toilet, headed off to the theatre where the show was to take place.
We took our seats and then I waited for the right moment to go to work! Near the end of the show, Norman Wisdom was on stage with Ted Robbins, and I decided that this was the time to go to make my move! I jumped out of my seat, ripped off my suit, and ran down to the front of the stage, but couldn't get on because of all the lighting equipment at the front of it. So I leant over and tried to grab Ted Robbins leg (I had streaked him before on a show called Confessions, and knew he would remember me). Norman Wisdom must of wondered what the hell was going on as he just stood there and stared!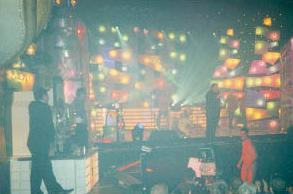 Ted, at first, just looked at me and then tried to carry on with the show, so I had a run around the audience and then went back to my seat and put my clothes back on. As I couldn't see any security coming for me, I picked my bag up and just walked out!
Nobody tried to stop me from leaving, (they must of thought that I was carrying a couple of hand grenades under my pea-shooter, and were too scared to approach me). I went out through the doors, met my mate and went for a couple of pints, then went home disappointed, as I still hadn't achieved my goal of getting onto the stage.