The British Open (St. Andrews) 1995
I arrived at St Andrews on the day of the Open with three friends. We had driven up in a car, as the shopping trolley we had hijacked, had collapsed under our weight.

When we got there we couldn't find a parking space, until we asked someone who was directing cars into a car park, if there were any spaces left. It turned out that he was a Scouser charging people £5 to get into a free car park and showed us a spot in the corner. We got talking and when I told him what I was going to do later that day, he asked if he could chase me and get in on it? I agreed, as he was obviously overweight and could run no further than his top lip! Before the event, we all went out and had a laugh before bunking in and getting a descent vantage point. While we were waiting, I noticed ex-President George Bush and Prince Andrew on a balcony flicking crows at each other. This got my attention, so I tried communicating to them through flatulence, but missed! So I decided to get their attention in other ways a bit later on.
As the tournament drew to its climax, my friends gathered around me, so I could get undressed without attracting the attention of the Beverly Hillbillies and half the cast of Baywatch around us, and we were amazed at how big it was (my stomach). I had to tell them that it was my disguise, as people know me normally as a virile young athlete in my prime!
As John Daly approached the 18th green, I got ready and put on a cloth cap that I had found at an allotment in Maidenhead and a set of kids plastic golf clubs from the crazy golf championship that I had won at Disneyland. Gary, one of my mates, had earlier etched onto my back, with a compass and marker pen, ''19th HOLE'' and drew an arrow pointing to my bum. As John Daly putted the ball, therefore winning the tournament, I jumped over the barrier and proceeded to run towards him. As I did, his wife ran to him and gave him a hug. This threw me a bit, as I had wanted to shake his putting glove, and as he has a reputation for swinging at people as well as balls, I decided I wanted him swinging at neither! So I ran past him, followed by my new found mate who had earlier gave us the parking space.
As I ran, I seemed to gather pace (it had nothing to do with the FBI, CIA, CID, and INTERPOL chasing me) because of the hills and slopes on the course. When I looked around, I was being chased by my new mate (who looked as though he was about to dive off a diving board for some reason) and the cast from Benny Hill. All the police who had come after me were running in a straight line; about 4 of them in total. I couldn't help laugh as I ran, especially when I heard my mate say ''slow down will you?''. I turned around again and saw him going red in the face, sweat pouring off him, as well as the police, and then saw George Bush and Prince Andrew clap and cheer as I ran past.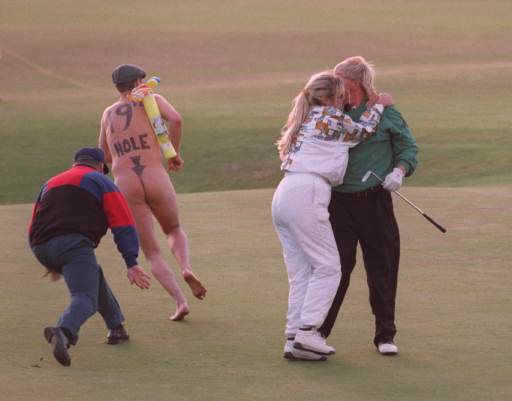 Rugby? At a golf match?
After I motioned to them that I would meet them in the bar when they let me out, I thought of my friend and broke my pace before he had a heart attack. He then rugby tackled me and, when I got up, slapped me in the face! ''YOU B#*%&!D'' he said. ''I could have died then!'' he grinned, before I was grabbed by the Gendarmerie and hauled off to rapturous applause.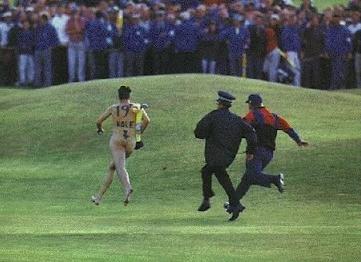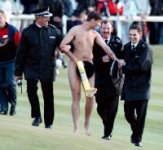 The old bill laughed it up!
I was then taken to the local police station and held overnight, before going in front of the 'Sheriff '(as they're known in Scotland) in the morning. I was appointed a local solicitor who didn't have a clue, and was nearly remanded to Barlinny prison for psychiatric reports, before eventually being fined £250! As I walked away from the dock, the Sheriff suggested that I seek help, to which I replied ''Any chance of getting the number of your psychiatrist Your Honour?'' before leaving sharply through the exit!
A photo of this streak is now on the front cover of a sporting comedies themed book, aptly titled, ''THE 19th HOLE''!