Crufts 1999
I went to the Birmingham NEC Crufts dog show in 1999 with Dave, a friend of mine who was there with me to write the logo on my back. Once in we had to buy another ticket to get into the judging arena. I had already decided to do the streak during the ''working dog'' judging as I couldn't imagine anybody else doing a streak in front of a load of German Shepherds and Bulldogs.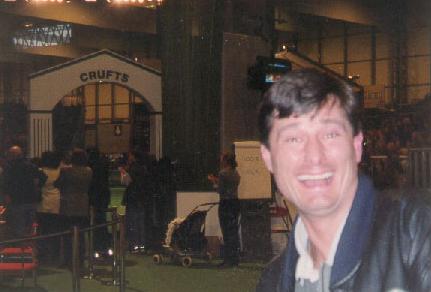 Even the notice board says good luck! ... Ready for Walkies, Fido ?
Before we took our seats we went into a cubicle in the men's toilets to write the logo on my back ("Pedigree Bum"), and to attach a toy puppy, we had bought earlier, to my Sausage Dog. I dread to think what anyone would of thought if they had walked in on us as I was bent over the loo with my trousers around my ankles and Dave being stood behind me with a thick marker in his hand! When I tried to do my trousers up they wouldn't fasten because the puppy's head was sticking out too much so I had to walk with a stoop to cover it.
When we took our seats, we were four in from the aisle but I needed to be nearer the aisle so I could get to it and down the stairs easily. So I told the two ladies at the side of us that I suffered from panic attacks and needed to be by the stairs and could we swap places, which they did. Next I had to get my trousers off without anybody noticing, (I didn't have my rip off suit with me) so I put my coat over my legs and started to slowly ease them down. After a few minutes I noticed the lady next to me nudge her friend and nod towards me. It was only then that I realised what I must of looked like as all you could see was my hands moving under my coat as I was looking at a load of dogs!!!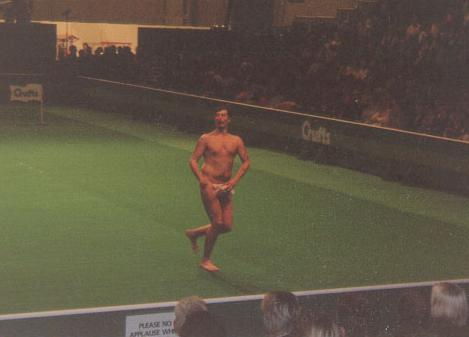 Rudolph the red nosed ... err ...
After a few more minutes I eventually got my pants off and motioned to Dave to move his legs. When he did, I jumped out and ran down the stairs, pulling my t-shirt off as I ran. I then vaulted the boarding and stuck on a red nose, (as I had raised £125 for Comic Relief in the process of doing this), and ran around the arena, cocked my leg over a post and ran in front of the dogs that were getting judged, motioning them to sit (just in case they decided to come after me). Unsurprisingly enough I was met with stunned silence as most people there were from the "la-de-da" set and at the time didn't have a clue what was going on. That sort of reaction is part of my buzz! After doing a circuit I jumped over the boarding to retrieve my clothes and within a minute or two saw half a dozen security guards running towards me. When they got hold of me they asked me what I was playing at? To which I replied, ''FETCH'', as they were the ones chasing me!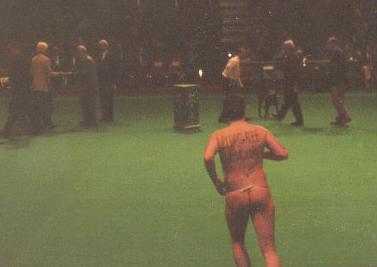 I've got a Pedigree Bum !!! Where's my rosette ?
Then one of them recognised me from a TV show I had been on so they decided to escort Dave and myself to the train station to make sure we left. Mission accomplished!