Lisa Lewis - Courageous New Zealand Streaker!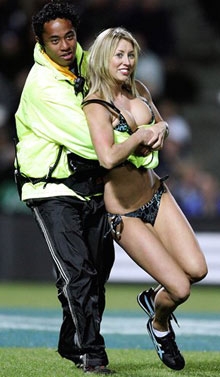 A New Zealand Damsel is in Distress! Although normally like me she is normally in a state of undress!

Her name is Lisa Lewis and like yours truly, she is campaigning for the right of true freedom!

Here is a piece about Lisa...

New Zealand is trying to BAN STREAKERS AND send them to JAIL FOR THREE MONTHS!!

BIG NEWS: New Zealand Parliament is trying to put a stop to streakers by sending them to jail for three months and fining huge fines. Lisa, 26 years old, is planning a trip to New Zealand's Parliament to object the proposals.

If parliament donít listen to Lisa she may attempt to set the world record for streaking in New Zealand shortly after!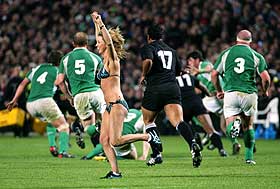 The record for the most streakers at one time is held by the University of Georgia with 1,549 simultaneous streakers on March 7, 1974. University of Colorado at Boulder comes in second with 1,200 streakers, and the University of Maryland ranking third at 553 naked students streaking three miles in March 1974. The previous record was held by the University of South Carolina with 508 streakers. Erskine College claimed the highest "per-capita streak" when 25% of its 600 students participated in a streaking party in 1974.

Parhaps Mark will join her in her quest!

Lisa was the bikini streaker at the 1st All Black and Ireland Test Match in 2006 and has made the Wikipedia encyclopaedia for BIKINI STREAKING!
There is more pictures of Lisa in action below, and for more information you can surf to http://www.myspace.com/LisaLewisRacingLtd